Sonbhadra ITI Admission, Admit Card, Entrance Exam and Result 2017
Sonbhadra is the 2nd largest city of Uttar Pradesh. It has many Electrical Power Plants and also known as "Energy Capital of India". The average literacy of the city is 64.03% which is lower than the state average.
The city boasts some very good education Centers, Colleges, Universities and Schools imparting higher and quality education to the students for their bright future and successful life. Apart from this, Technical education is in great demand now. So, Govt. opened many ITI's (Industrial Training Institutes) to provide technical as well as non-technical education to the students. At present, the city has 2 Govt. ITI's and 25 Private ITI's. They offer more than 130 trades. ITI's are post-secondary schools in India to provide training in different courses constituted under DGET (Directorate General of Employment & Training). Admission to the various courses is done every year in August.
The minimum duration of these courses is from 6 months to 2 years and the age limit is up to 14 years. Vyavasayik Pareeksha Parishad (www.vppup.in) Uttar Pradesh is responsible for conducting the entrance examination for admission to different courses in State ITI's.
Also, students can visit online website www.upiti.in as well. It offers updated information to the students regarding admission, online downloading application forms, checking results, important dates etc. to the students.
Sonbhadra आई० टी० आई० प्रवेश 2017 हेतु ऑनलाइन आवेदन
Official Website- www.vppup.in Course Name: ITI Mode of application: Online
Who can apply?
Qualification: Only 10th Passed from state education boards.
Age Limitation: Minimum age is required to have 14 years.


Application Fee: Aspirants have to make payment Rs 250/- for GEN/OBC and Rs 100/- for reserved category(SC/ST) and aspirants after making payment, they will have login credential for registration.
How to Apply Online?
Applicant first needs to get UP ITI login and password from Sonbhadra nearest ITI College for suitable amount as mentioned above. Now after collecting details, they need to access official website www.vppup.in and start their registration from academic qualification. Now submit details and make sure about information before submitting ITI application form online.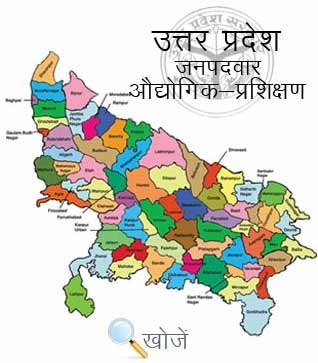 S.N.
ITI College Name in Sonbhadra
Details

Govt College
1
GOVERNMENT ITI, DUDDHI, SONEBHADRA [131]
131
2
GOVERNMENT ITI, ROBERTSGANJ, SONEBHADRA [234]
234
Private College
College Code
1
ASTHA PRIVATE ITI [1885 ] - SONEBHADRA
1885
2
ATMARAM PRIVATE ITI [2597] CHOPAN MAIN ROAD, SONEBHADRA
2597
3
BIO TECH PRIVATE ITI [2224 ] - SONEBHADRA
2224
4
CENTRAL PRIVATE ITI [2226 ] - SONEBHADRA
2226
5
DEVA PRIVATE ITI,[2445] - SONEBHADRA
2445
6
DEVO MAHESH PRIVATE ITI [2222 ] - SONEBHADRA
2222
7
GANESH DUTTA PRIVATE ITI [1723 ] - SONEBHADRA
1723
8
JANGBAHADUR SINGH PRIVATE ITI [1642] - SONEBHADRA
1642
9
KASHI PRIVATE ITI [2220 ] - SONEBHADRA
2220
10
MAA DURGA NATIONAL PRIVATE ITI [1661 ] - SONEBHADRA
1661
11
MODERN PRIVATE ITI [2429] - SONEBHADRA
2429
12
NATIONAL PRIVATE ITI [1665 ] - SONEBHADRA
1665
13
NEW BHARTI PRIVATE ITI [2219] - SONEBHADRA
2219
14
NEW INDIAN PRIVATE ITI [1831] - SONEBHADRA
1831
15
PARWATI MEMORIAL PRIVATE ITI [1659] - SONEBHADRA
1659
16
PURVANCHAL PRIVATE ITI [2340 ] - SONEBHADRA
2340
17
R.V. PRIVATE ITI [2407] - SONEBHADRA
2407
18
RASTRIYA PRIVATE ITI [1641 ] - SONEBHADRA
1641
19
RUDRA PRASAD PRIVATE ITI [1939 ] - SONEBHADRA
1939
20
SONANCHAL PRIVATE ITI [1693 ] - SONEBHADRA
1693
21
TAASHA PRIVATE ITI [2341] - SONEBHADRA
2341
22
URJANCHAL PRIVATE ITI [2217 ] - SONEBHADRA
2217
23
VIJAY PRIVATE ITI [1643 ] - SONEBHADRA
1643
24
VISHWAKARMA PRIVATE ITI [1715 ] - SONEBHADRA
1715
25
YUG SHANTI PRIVATE ITI [1716 ] - SONEBHADRA
1716