Varanasi ITI Result - 1st, 2nd, 3rd and 4th Semester
upiti.in | Updated:
Varanasi is one of the famous cities of Uttar Pradesh which is also known as "Spiritual Capital of India" or the "City of Temple". It's also known as Banaras or Kashi. It's one of the religious and holiest cities of Hinduism, Jainism, and Buddhism. The city has many Ghats, Temples and Universities. Banaras Hindu University is the largest University in Asia with over 20,000 students.
Varanasi is one of the biggest education hubs of the state with average literacy rate of 78.41%. It boasts countless study and education centers like Imania Arabic College, Sampurnanand Sanskrit University, Nav Sadhana Kala Kendra, and St. Joseph's Convent School etc. The city has 3 Govt. ITI's and 79 Private ITI's. ITI's or Industrial Training Institute is the post-secondary schools in country which provides technical and non-technical education to the students. Counseling Skills, Data Entry Operator, Network Technician, Medical Transcription etc. are few among 130 courses offered by these technical institutes. Duration of these courses is from 6 months to 2 years and age requirement is up to 14 years with mandatory qualification of matriculation.
After completing ITI, students can go for Apprenticeship Training Program. During this Training Period, trainees are paid on monthly basis as well. In the state of Uttar Pradesh, Vyavasayik Pareeksha Parishad (www.vppup.in) is responsible for conducting the entrance examination for admission. Students can also visit website www.upiti.in as well. It is a comprehensive database of information to the students regarding admission, important notifications, results, online downloading application forms etc. to save their valuable time.

| Exam Name | Result |
| --- | --- |
| UP ITI Result 2022 - Official Site | Click Here |
| NCVT MIS ITI Result- Official Site | Click Here |
| NCVT MIS ITI Result- Official Site | Click Here |
| NCVT ITI Semester Exam Result 2021 Announced: News | Click Here |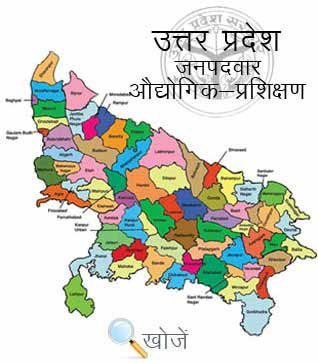 | S.N. | Colleges Name |
| --- | --- |
| 1 | Government ITI, Karaundi, Varanasi [121] |
| 2 | Government ITI, Chaukaghat, Varanasi [123] |
| 3 | Government ITI, World Bank Mahila, Varanasi [132] |
| 4 | LALITA DEVI INDUSTRIAL TRAINING INSTITUTE PRIVATE ITI [3444], VARANASI |
| 5 | LAXMI PRIVATE ITI [3599], VARANASI |
| 6 | K P S PRIVATE ITI [3227], VARANASI |
| 7 | R R D GAUTAM NATIONAL PRIVATE ITI [3210], VARANASI |
| 8 | H K S MEMORIAL PRIVATE ITI [3434], VARANASI |
| 9 | SUNSHINE KRISHNA PRIVATE ITI [3577], VARANASI |
| 10 | Samadhan Mahila Shilp Kala Prashikshan Kendra Private ITI [1632 ] - Varanasi |
| 11 | P.D. Group of Private ITI [2189 ] - Varanasi |
| 12 | Shri Aditya Narayan Singh Private ITI [2192 ] - Varanasi |
| 13 | Santushti Private ITI [2195 ] - Varanasi |
| 14 | Moolchandra Private ITI [2197] - Varanasi |
| 15 | Maa Vindhyavasini Private ITI [2213 ] - Varanasi |
| 16 | Babu Harivansh Bahadur Private ITI [1860] - Varanasi |
| 17 | Sant Kabir Private ITI [1935] - Varanasi |
| 18 | R.S. Private ITI [1884 ] - Varanasi |
| 19 | R.D. Private ITI [1708 ] - Varanasi |
| 20 | Markandey Private ITI [1721 ] - Varanasi |
| 21 | Dewa Private ITI [1730 ] - Varanasi |
| 22 | Smriti Private ITI [1739 ] - Varanasi |
| 23 | The IETE Private ITI [1760 ] - Varanasi |
| 24 | Manni Devi Shayam Lal Private ITI [1800 ] - Varanasi |
| 25 | Dev Private ITI [1828 ] - Varanasi |
| 26 | Shivakant Private ITI,[2446] - Varanasi |
| 27 | Sardar Vallabhbhai Patel Private ITI [2512] Rajatalab, Varanasi |
| 28 | Microtek Private ITI [2714], VARANASI |
| 29 | JAI SRI MARKANDEY PRIVATE ITI [3206], VARANASI |
| 30 | Shri Sai Private ITI [2949] Bhiti Bye Pass Ramnagar Varanasi |
| 31 | Lilawati Private ITI [1906 ] - Varanasi |
| 32 | B S Private ITI [1921] - Varanasi |
| 33 | Babu Loknath Singh Private ITI [1923 ] - Varanasi |
| 34 | Shambhoo Nath Singh Private ITI [1830 ] - Varanasi |
| 35 | Anshika Private ITI [1842 ] - Varanasi |
| 36 | Premlata Private ITI [1862 ] - Varanasi |
| 37 | M.S. Private ITI [1883 ] - Varanasi |
| 38 | Ramdev Private ITI [1890 ] - Varanasi |
| 39 | NandanITI Birbhanpur [1630 ] - Varanasi |
| 40 | Rajatalab Private ITI [1631] Rajatalab, Varanasi |
| 41 | J.S. ITI [1655 ] Palhipatti, Varanasi |
| 42 | P.D. Private ITI [1775 ] - Varanasi |
| 43 | Adarsh Private ITI [1778 ] - Varanasi |
| 44 | Sarnath Private ITI [1820 ] - Varanasi |
| 45 | JAGADISH CHANDRA MISHRA PRIVATE ITI [3519], VARANASI |
| 46 | R.N. Private ITI [1928 ] - Varanasi |
| 47 | Shri Shiv Shankar Private ITI [2432] - Varanasi |
| 48 | Sarnath Private ITI [2207 ] - Varanasi |
| 49 | Sharda Private ITI [2209 ] - Varanasi |
| 50 | Vaani National Private ITI [2211 ] - Varanasi |
| 51 | Sant Sai Private ITI [2193 ] - Varanasi |
| 52 | Raj Pati Shukla Private ITI [2190 ] - Varanasi |
| 53 | Adarsh Rashtriya Private ITI [1633 ] - Varanasi |
| 54 | Purvanchal Private ITI [1634 ] - Varanasi |
| 55 | DUX PRIVATE ITI [1635], MARUTI NAGAR, MADARWA RAMANA-VARANASI |
| 56 | Gramya Bharti Private ITI [1678 ] - Varanasi |
| 57 | Babu Harbansh Bahadur Singh Private ITI [1703 ] - Varanasi |
| 58 | Sri Shiv Das Private ITI [1710 ] - Varanasi |
| 59 | K.D.S. Private ITI [1720 ] - Varanasi |
| 60 | M.P National Private ITI [1750 ] - Varanasi |
| 61 | Gaya Singh Private ITI [1776 ] - Varanasi |
| 62 | S.R. Private ITI [1779 ] - Varanasi |
| 63 | R.M.S. Private ITI [1791 ] - Varanasi |
| 64 | Sunshine Private ITI [1803 ] - Varanasi |
| 65 | Nalanda Vocational Training Centre [1799 ] - Varanasi |
| 66 | Siddharth ITI [1829 ] Palhipatti, Varanasi |
| 67 | B.N. Private ITI [1841 ] - Varanasi |
| 68 | Red Rose Private ITI [1843 ] - Varanasi |
| 69 | Satya Narayan Singh Private ITI [1848 ] - Varanasi |
| 70 | Yogiraj Dhayananand Private ITI [1850 ] - Varanasi |
| 71 | V.B.S. Memoiral Private ITI [1855 ] - Varanasi |
| 72 | Saraswati Private ITI [1866 ] - Varanasi |
| 73 | Babu Shonhu Private ITI [1888 ] - Varanasi |
| 74 | Asha Private ITI [1891 ] - Varanasi |
| 75 | Shri Krishna Private ITI [2201] - Varanasi |
| 76 | Rama Private ITI [2205] - Varanasi |
| 77 | Shri Rajnarayan Private ITI [2215] - Varanasi |
| 78 | Lavkush Private ITI [2718], VARANASI |
| 79 | Jaharangi Private ITI [2650], VARANASI |
| 80 | Gramodaya Private ITI [2613], Kumharpura Pulwaria Sadar, Varanasi |
| 81 | Rammurti Smarkak Private ITI [2519], Tikri, Varanasi |
| 82 | Shree Akshaibar Singh Memorial Private ITI [2854], VARANASI |
| 83 | Tara Shankar Private ITI [2824], VARANASI |
| 84 | Shree Param Hans Private ITI [2983] , Chhateri, Manapur, Kachhawa Road, Varanasi |
| 85 | Shivam Private ITI [2972] , Kavirampur Badagoan, Varanasi |
| 86 | V. R. Private ITI [2970],Varanasi Veerbhanpur Rajatalab |
| 87 | SUMAN PRIVATE ITI [3105], VARANASI |
| 88 | CAMBRIDGE PRIVATE ITI [3051], VARANASI |
| 89 | SAI RAJ PRIVATE ITI [3216], VARANASI |
| 90 | Geeta Private ITI Near Railway Crossing [2659], VARANASI |
| 91 | J.S. Private ITI [2616] Sadhoganj, Varanasi |
| 92 | Aishvarya Private ITI [2400] - Varanasi |
| 93 | Manju Srivastava Private ITI [2203 ] - Varanasi |
| 94 | M.P.Memorial Private ITI [2199 ] - Varanasi |
| 95 | Gaurav Private ITI [2187 ] - Varanasi |
| 96 | G.S.S Private ITI [2776], VARANASI |
| 97 | Shri Markandey Private ITI [2688], VARANASI |
| 98 | Nirmal Private ITI [2997], Puredhoorshah Niyar Sadar, Varanasi |