Ambedkar Nagar ITI Result - 1st, 2nd, 3rd and 4th Semester
upiti.in | Updated:
Ambedkar Nagar is a small and peaceful district in the Faizabad Division. It was formed on 29th September 1995 and was named in the memory of Dr. Bhimrao Ramji Ambedkar, popularly known as Baba Saheb. He was an Indian Jurist, economist, social reformer and politician who inspired Dalit Buddhist Movement and campaigned against social discrimination. Ambedkar Nagar is situated at a distance of 180 Km from the state capital Lucknow and 60 Km away from Ayodhya the birth place of Lord Ram.
To understand the need and demand of technology in today's scenario the Government of Uttar Pradesh has taken various initiatives. Ambedkar Nagar in Uttar Pradesh boasts some of the best Government Collages, Private Collages and Professional Institutes imparting education in Science, commerce, arts along with engineering and non engineering streams.
Apart from this to impart technical education to the youth Ambedkar Nagar has three Industrial Training Institutes at Akbarpur, Tanda and Alapur that offers various engineering and non engineering courses to the students of duration 6 months, one year and two years. To enrol in various courses the students need to be xth passed with minimum age of 14 years. Vyavasayik Pareekha Parishad in the state of Uttar Pradesh is responsible for conducting the entrance examination of admission to various courses in ITI's. The official site is www.vppup.in where students can check out the important notification dates, exam result, merit list, counselling dates etc.
Apart from this students can also visit www.upiti.in which is an education portal which offers all the latest information like online downloading of application form, results, merit list, examination dates about UP ITI's that saves your valuable time.

| S.N. | Category | Reservation |
| --- | --- | --- |
| 1 | अनुसूचित जाति (S.C.) के अभ्यर्थियों के लिए | व्यवसायवार एवं समस्त प्रवेश सीटों का 21 प्रतिशत। |
| 2 | अनुसूचित जनजाति (S.T.) के अभ्यर्थियों के लिए | व्यवसायवार एवं समस्त प्रवेश सीटों का 02 प्रतिशत। |
| 3 | अन्य पिछड़ा वर्ग (O.B.C.) के अभ्यर्थियों के लिए | व्यवसायवार एवं समस्त प्रवेश सीटों का 27 प्रतिशत। |
| Exam Name | Result |
| --- | --- |
| UP ITI Result 2022 - Official Site | Click Here |
| NCVT MIS ITI Result- Official Site | Click Here |
| NCVT MIS ITI Result- Official Site | Click Here |
| NCVT ITI Semester Exam Result 2021 Announced: News | Click Here |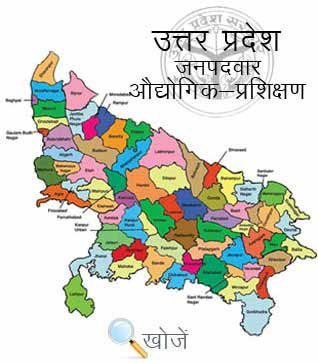 | S.N. | Colleges Name |
| --- | --- |
| 1 | Government ITI, Tanda, Ambedkar Nagar [102] |
| 2 | Government ITI, Alapur, Ambedkar Nagar [113] |
| 3 | Government ITI, Jahangirganj, Ambedkar Nagar [223] |
| 4 | Government ITI, Akabarpur, Ambedkar Nagar [224] |
| 5 | Ram Piyare Singh Private ITI [1211 ] - Ambedkar Nagar |
| 6 | Chandra Private ITI [1245 ] - Ambedkar Nagar |
| 7 | WITS PrivateITI [1249 ] - Ambedkar Nagar |
| 8 | Kamla Devi Memorial Vocational Training Institute [1252 ] - Ambedkar Nagar |
| 9 | Hazi Abdullah Private ITI [1253 ] - Ambedkar Nagar |
| 10 | K.B.R Private ITI [1257 ] - Ambedkar Nagar |
| 11 | Pandit S.D Pandey Private ITI [1267 ] - Ambedkar Nagar |
| 12 | Smt. Kamla Devi Private ITI [1268 ] - Ambedkar Nagar |
| 13 | Srimati Shyama Devi Private ITI [1273] - Ambedkar Nagar |
| 14 | Akanchaa Smiriti Private ITI [1279 ] - Ambedkar Nagar |
| 15 | Pt Mahaveer Prasad Private ITI [1303 ] - Ambedkar Nagar |
| 16 | Trilokinath Ramnarayan Private ITI [1323 ] - Ambedkar Nagar |
| 17 | Pt. Ram Nayan Tripathi Private ITI [1326 ] - Ambedkar Nagar |
| 18 | Tribhuwan Private ITI [1327 ] - Ambedkar Nagar |
| 19 | Bright Sughra Devi Private ITI [1332 ] - Ambedkar Nagar |
| 20 | Babu Ram Private ITI [1333 ] - Ambedkar Nagar |
| 21 | Baba Rajkaran Private ITI [1334 ] - Ambedkar Nagar |
| 22 | New Akansha SmirPrivateITI Private ITI [1341 ] - Ambedkar Nagar |
| 23 | Apex Private ITI [1343 ] - Ambedkar Nagar |
| 24 | Asharfi Private ITI [1346 ] - Ambedkar Nagar |
| 25 | Dr. B.R.Ambedkar Private ITI [1347 ] - Ambedkar Nagar |
| 26 | HariLal Yadav Smarak Private ITI [1986] - Ambedkar Nagar |
| 27 | Shakti Private ITI [1987 ] - Ambedkar Nagar |
| 28 | K.P. Private ITI [1989 ] - Ambedkar Nagar |
| 29 | Ganesh Private ITI [1990 ] - Ambedkar Nagar |
| 30 | Om Sai Private ITI, [1992 ] - Ambedkar Nagar |
| 31 | Sri Jang Bahadur Singh Private ITI [2347 ] - Ambedkar Nagar |
| 32 | Ram Shabd Humela Devi Smarak Private ITI [1988] - Ambedkar Nagar |
| 33 | Chandra Private ITI [1991] - Ambedkar Nagar |
| 34 | Shri Ram Private ITI [1993] - Ambedkar Nagar |
| 35 | E.C.I. Private ITI [1994] - Ambedkar Nagar |
| 36 | Maa Kamla Pvt Private ITI [2385] - Ambedkar Nagar |
| 37 | Smt Kamladevi Private ITI [1234] - Ambedkar Nagar |
| 38 | Pandit S D Pandeya Private ITI [1287] - Ambedkar Nagar |
| 39 | Pandit Ram Narayan Tripathi Private ITI [1985] - Ambedkar Nagar |
| 40 | Late Kanhaiyalal Prajapati Private ITI [1995] - Ambedkar Nagar |
| 41 | Bhawani Prashad Shingh Janta Private ITI [2472] - Ambedkar Nagar |
| 42 | Late. Vishambhar Verma Private ITI [2555] Tanda, Ambedkar Nagar |
| 43 | Om Prakash Sarita Private ITI [2851], AMBEDKAR NAGAR |
| 44 | Abha Private ITI [2862], AMBEDKAR NAGAR |
| 45 | Shyam Dulari Private ITI [2934],Akabarpur,Ambedkar Nagar |
| 46 | Pt. Keshavram Mishra Private ITI [2950] Tanda, Dist. Ambedkarnagar |
| 47 | Vikas Private ITI [2951] Ariyauna,Ambedkar Nagar |
| 48 | NEW HAJI ABDULLAH PRIVATE ITI [3131], AMBEDKAR NAGAR |
| 49 | BABU DRV PRIVATE ITI [3215], AMBEDKAR NAGAR |
| 50 | SMT SATYAWATI DEVI PRIVATE ITI [3413], AMBEDKAR NAGAR |
| 51 | MAA KOMAL DEVI PRIVATE ITI [3490], AMBEDKAR NAGAR |