Amroha ITI Result - 1st, 2nd, 3rd and 4th Semester
upiti.in | Updated:
Amroha is a town in north-western Uttar Pradesh which is one of the most famous states of North India. It is located northwest of Moradabad near the Sot River. It is one of the most ancient cities of India contains around 2400 years of historical background. Amroha is the headquarters of Amroha District. It is a Muslim dominated city in the state of UP with the literacy rate of 62.36%.
Amroha is decked with small scale industries but at the same time, the town has some good higher educational institutes and colleges like Hashmi Girls Degree College, J.S Hindu Post Graduate College, Nayab Abbasi Girls Degree College, B.I Qureshi Degree College etc are some of the prominent colleges of the town that offer higher education to the youth of the town.
To impart technical skills to the youth so that they get better job opportunities there is one government Industrial Training institute in the town as well named Jyotiba Phule Nagar (Amroha) ITI that offers both engineering as well as non engineering courses to the students so that they can have better job prospects. The basic qualification to enrol in the various courses offered by the ITI in Amroha is Xth passed and the candidate must have 14 years of age.
Vyavasayik Pareekha Parishad in the state of Uttar Pradesh is responsible for conducting the entrance examination for admission to various courses in Industrial Training Institutions. Its official site is www.vppup.in. Students can also visit www.upiti.in as well which is an education portal that offers student all the updated information about courses, examination results, admit cards and the facilities of online downloading of the application form, checking of result, counselling dates etc.
| Exam Name | Result |
| --- | --- |
| UP ITI Result 2022 - Official Site | Click Here |
| NCVT MIS ITI Result- Official Site | Click Here |
| NCVT MIS ITI Result- Official Site | Click Here |
| NCVT ITI Semester Exam Result 2021 Announced: News | Click Here |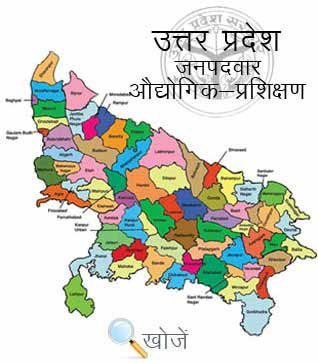 | S.N. | Colleges Name |
| --- | --- |
| 1 | Government ITI, Amroha [043] |
| 2 | Government ITI, Gajraula, J.P. Nagar [049] |
| 3 | Government ITI, Gangeshwari, J.P. Nagar [197] |
| 4 | Government ITI, Hasanpur, J.P. Nagar [198] |
| 5 | Shohrat Private ITI [1006 ] - J.P.Nagar (Amroha) |
| 6 | N.H.M. Private ITI [1007 ] - J.P.Nagar (Amroha) |
| 7 | Vidya Bharti Private ITI [1008 ] Gajroula ( J.P.NAGAR) |
| 8 | New Vidya Bharti Private ITI [1092 ], Gajroula ( J.P.NAGAR) |
| 9 | Narayani Swaroop Daya Private ITI [1146 ] - J.P.Nagar (Amroha) |
| 10 | Mother Teresa Private ITI [1172 ] - J.P.Nagar (Amroha) |
| 11 | Hind Private ITI [1178 ] - J.P.Nagar (Amroha) |
| 12 | Rashtriya Private ITI [1190 ] - J.P.Nagar (Amroha) |
| 13 | Ali Mobeen Memorial Private ITI [2318 ] - J.P.Nagar (Amroha) |
| 14 | D. S. M. Private ITI [2320] - J.P.Nagar (Amroha) |
| 15 | Sanskar ITI [2321] - J.P.Nagar (Amroha) |
| 16 | Maharaja Agrasen Private ITI [2930], J.P.NAGAR (AMROHA) |
| 17 | KAMLA DEVI PRIVATE ITI [3245], J.P.NAGAR (AMROHA) |
| 18 | P K M PRIVATE ITI [3246], J.P.NAGAR (AMROHA) |
| 19 | J K PRIVATE ITI [3521], J.P.NAGAR (AMROHA) |