Bhadohi ITI Result - 1st, 2nd, 3rd and 4th Semester
upiti.in | Updated:

Bhadohi is one of the popular cities of UP. It's the biggest Carpet manufacturing center in India and is worldwide known as "Carpet City". It has a number of Colleges, Study Centers, ITI's to give the best education to the students in the field of Management, Law, Commerce, Medical and Technology etc. To impart technical skills to the youth so that they can get better life and job opportunities state Government has opened 2 Govt. ITI or 17 Private ITI's or Industrial Training Institutes in the city.

These Industrial Training Institutes offer technical as well as non-technical education to the students. In Uttar Pradesh, Vyavasayik Pareeksha Parishad (www.vppup.in) is responsible for conducting the entrance examination for admission. Minimum age up to 14 years and the basic qualification is matriculation to join these courses. Time duration of the courses is 6 months, 1 year and 2 years.

Students can also visit online education portal www.upiti.in as well which provide them all the necessary and up to date information regarding downloading application forms, important notifications, counseling dates etc. The Directorate General of Training (DGT) starts craftsmanship training scheme in 1950. Trainees get paid during the training and get NTC (National Trade Certificate) also.
| Exam Name | Result |
| --- | --- |
| UP ITI Result 2022 - Official Site | Click Here |
| NCVT MIS ITI Result- Official Site | Click Here |
| NCVT MIS ITI Result- Official Site | Click Here |
| NCVT ITI Semester Exam Result 2021 Announced: News | Click Here |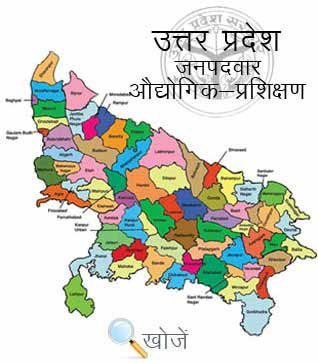 | S.N. | Colleges Name |
| --- | --- |
| 1 | Government ITI, Gyanpur, Bhadohi Sant, Ravidas Nagar [122] |
| 2 | Government ITI, Bhadoi, Sant Ravidas Nagar [230] |
| 3 | Private ITI Kathauta [1756 ] - Sant Ravidas Nagar (Bhadohi) |
| 4 | Keshav Prasad Ralhi Private ITI [1832 ] - Santravidas Nagar (Bhadohi) |
| 5 | Late. L.P. Singh Memorial Private ITI [1918 ] - Santravidas Nagar (Bhadohi) |
| 6 | Sri Sankat Mochan Private ITI [1945 ] - Santravidas Nagar (Bhadohi) |
| 7 | V.P. Singh Private ITI [2343 ] - Santravidas Nagar (Bhadohi) |
| 8 | Smt. Devki Devi Private ITI [1971] - Santravidas Nagar (Bhadohi) |
| 9 | Shri Shiv Shankar Private ITI [2344] - Santravidas Nagar (Bhadohi) |
| 10 | Param Pujya Maharaj Ji Private ITI [2345] - Santravidas Nagar (Bhadohi) |
| 11 | D. J. D. Private ITI [2410] - Santravidas Nagar (Bhadohi) |
| 12 | Kusumanjali Private ITI [2606] Gyanpur, Bhadohi |
| 13 | Radhey Private ITI [2791], SANTRAVIDAS NAGAR (BHADOHI) |
| 14 | MB & Sons Private ITI [2890], SANTRAVIDAS NAGAR (BHADOHI) |
| 15 | Manvasa Vidya Private ITI [2893], SANTRAVIDAS NAGAR (BHADOHI) |
| 16 | RASHTRIY PRIVATE ITI [3176], SANTRAVIDAS NAGAR (BHADOHI) |
| 17 | B L B PRIVATE ITI [3220], SANTRAVIDAS NAGAR (BHADOHI) |
| 18 | KAMALA PRIVATE PRIVATE ITI [3286], SANTRAVIDAS NAGAR (BHADOHI) |
| 19 | MAHAVEER PRIVATE ITI [3308], SANTRAVIDAS NAGAR (BHADOHI) |
| 20 | DHARMSHEELA PRIVATE ITI [3411], SANTRAVIDAS NAGAR (BHADOHI) |
| 21 | RAM NARESH SINGH PRIVATE ITI [3450], SANTRAVIDAS NAGAR (BHADOHI) |