Ghazipur ITI Result - 1st, 2nd, 3rd and 4th Semester
upiti.in | Updated:
Ghazipur city is the administrative headquarters of Ghazipur District in Uttar Pradesh. It's a part of Varanasi Division. It is decked with various education centers to provide higher and quality education to students in the field of Art, Science, Agriculture, Medical, Engineering etc.
Education does not give knowledge only it gives the way of life as well. So, education is the most important part of student' or individual's life. In today's scenario, technical knowledge is one of the biggest plus points of anyone's resume. Industries can hire the persons who have technical education and experience. For this purpose, Govt. has opened 2 Govt. ITI's and 96 Private ITI's in the city. ITI's or Industrial Training Institute is the post-secondary schools in the country which provides technical and non-technical education to the students.
Vyavasayik Pareeksha Parishad (www.vppup.in), Uttar Pradesh is responsible for conducting the entrance examination for admission in state ITI's to enroll in different courses. Trainees get paid during the training. Admission procedure is done every year in the month of August. Students can also visit website www.upiti.in as well. It is a comprehensive database of information to the students regarding admission, important notifications etc. to save their valuable time.
Agro Processing, Information Technology, Data Entry Operator, Network Technician, Medical Transcription etc. are few among 130 courses offered by these technical institutes. Duration of these courses is from 6 months to 2 years and age requirement is up to 14 years with the mandatory qualification of matriculation.
Ghazipur आई० टी० आई० प्रवेश 2018 हेतु ऑनलाइन आवेदन
| Exam Name | Result |
| --- | --- |
| UP ITI Result 2022 - Official Site | Click Here |
| NCVT MIS ITI Result- Official Site | Click Here |
| NCVT MIS ITI Result- Official Site | Click Here |
| NCVT ITI Semester Exam Result 2021 Announced: News | Click Here |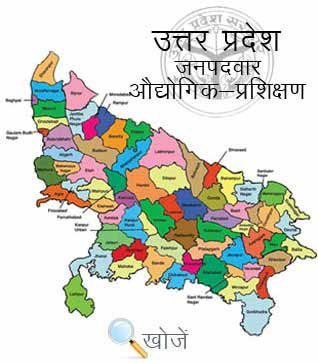 | S.N. | Colleges Name |
| --- | --- |
| 1 | Government ITI, Ghazipur [128] |
| 2 | Government ITI, Saidpur, Ghazipur [158] |
| 3 | Shri Vijay Private ITI [2691], GHAZIPUR |
| 4 | Shri Dhaneshwar Shiksha Evam Prashikshan Sansthan [2796], GHAZIPUR |
| 5 | Lutawan Private ITI [2847], GHAZIPUR |
| 6 | Jamuna Singh Swami Private ITI [2840], GHAZIPUR |
| 7 | Ramakanat Private ITI [2168] - Ghazipur |
| 8 | Rajaram Private ITI [2670], GHAZIPUR |
| 9 | Baba B.N.M National Private ITI [2404] - Ghazipur |
| 10 | SRI MOTILAL PRIVATE ITI [3218], GHAZIPUR |
| 11 | SHRI CHANDRABALI PRIVATE ITI [3239], GHAZIPUR |
| 12 | R N GLOBAL PRIVATE ITI [3213], GHAZIPUR |
| 13 | S K S PRIVATE ITI [3205], GHAZIPUR |
| 14 | SHRI A K NATIONAL PRIVATE ITI [3207], GHAZIPUR |
| 15 | SHRI B N M NATIONAL PRIVATE ITI [3208], GHAZIPUR |
| 16 | SHIV PRATAP PRIVATE ITI [3118], GHAZIPUR |
| 17 | DR. PANKAJ PRIVATE ITI [3156], GHAZIPUR |
| 18 | CHANDRA DEO PRIVATE ITI [3157], GHAZIPUR |
| 19 | VIJAY PRIVATE ITI [3158], GHAZIPUR |
| 20 | S M PRIVATE ITI [3175], GHAZIPUR |
| 21 | PREMCHANDRA PRIVATE ITI [3172], GHAZIPUR |
| 22 | BABA BHAGELU DAS PRIVATE ITI [3164], GHAZIPUR |
| 23 | S P S PRIVATE ITI [3165], GHAZIPUR |
| 24 | JAI BAJARANG PRIVATE ITI [3295], GHAZIPUR |
| 25 | GANESHA PRIVATE ITI [3270], GHAZIPUR |
| 26 | SHRI PALTU PRIVATE ITI [3274], GHAZIPUR |
| 27 | NEW NATIONAL PRIVATE ITI [3294], GHAZIPUR |
| 28 | NEW H S PRIVATE ITI [3324], GHAZIPUR |
| 29 | Paramhans Yoganand ji Private ITI [2976] Vill & Post-Ghariha,Ghazipur |
| 30 | Shri Babunandan Private ITI [3021], Chini Mill Road, Nandganj, Ghazipur |
| 31 | Shri Bajaranj Shikshan Prashikshan College Private ITI [2835], GHAZIPUR |
| 32 | Satyadeo Private ITI [2692], GHAZIPUR |
| 33 | Ramnaresh Private ITI [2751], GHAZIPUR |
| 34 | Gautambuddha Private ITI [2150] - Ghazipur |
| 35 | Late Banshi Private ITI [2151] - Ghazipur |
| 36 | N. I. C. E. Private ITI [2144] - Ghazipur |
| 37 | Late Bahadur Private ITI [2166] - Ghazipur |
| 38 | Shanti Devi Prayag Private ITI [2127] - Ghazipur |
| 39 | Mo. Saquib Private ITI [2132] - Ghazipur |
| 40 | Swami Vivekanand National Private ITI [2137] - Ghazipur |
| 41 | K. D. Singh Private ITI [2138 ] - Ghazipur |
| 42 | Shrivatsa Private ITI [2139] - Ghazipur |
| 43 | Buddha Private ITI [2140] - Ghazipur |
| 44 | Dulari Devi Private ITI [2394] - Ghazipur |
| 45 | Baba Ram Nath Private ITI [2402] - Ghazipur |
| 46 | Nav Bharti Private ITI ,[2406] - Ghazipur |
| 47 | Vijay Private ITI [2412] - Ghazipur |
| 48 | Kavaldhari Yadav Private ITI [2414] - Ghazipur |
| 49 | Adarsh Private ITI [1880 ] - Ghazipur |
| 50 | Ram Doot Private ITI [1860 ] - Ghazipur |
| 51 | J.B. Private ITI [1849 ] - Ghazipur |
| 52 | K.N.S Private ITI [1827 ] - Ghazipur |
| 53 | Panmati Private ITI [1837 ] - Ghazipur |
| 54 | Mata Parkali Devi Private ITI [1811 ] - Ghazipur |
| 55 | Satyam Private ITI [1781 ] - Ghazipur |
| 56 | Adarsh Private ITI [1790 ] - Ghazipur |
| 57 | Sati Anusuiya Private ITI [1784 ] - Ghazipur |
| 58 | Satyam Private ITI [1787 ] - Ghazipur |
| 59 | A.K. National Private ITI [1751 ] - Ghazipur |
| 60 | Raj Kishor Singh Private ITI [1752 ] - Ghazipur |
| 61 | Chandradev Private ITI [1677 ] Bahadurganj, Ghazipur |
| 62 | National Private ITI [1748 ] - Ghazipur |
| 63 | Baba Ram Das Kishore Private ITI [1761 ] - Ghazipur |
| 64 | Bhole Shankar Dhaneshwari Private ITI [1764 ] - Ghazipur |
| 65 | Adarsh Private ITI [1722 ] - Ghazipur |
| 66 | Sarthak Private ITI [1732 ] - Ghazipur |
| 67 | Ramnath Munshi Private ITI [1733 ] - Ghazipur |
| 68 | Subedar Singh Private ITI [1735 ] - Ghazipur |
| 69 | Sri Krishna I T I [1737 ] - Ghazipur |
| 70 | Maa Daulti Devi Awam Sahatu Audhyogic Awam Taknik Prashikshan Sansthan [1669 ] - Ghazipur |
| 71 | Shanti Devi Private ITI [1916 ] - Ghazipur |
| 72 | I.D. Memorial Private ITI [1930 ] - Ghazipur |
| 73 | Buddham Sharanam Private ITI [1899 ] - Ghazipur |
| 74 | Ramjet Institute of Engineering & Technology Private ITI [1902 ] - Ghazipur |
| 75 | Shahzada Private ITI [1903 ] - Ghazipur |
| 76 | K.S.V. Institute of Engineering & Technology Private ITI [1913 ] - Ghazipur |
| 77 | Gramin Private ITI [1926 ] - Ghazipur |
| 78 | S. Ali National Industrial & Vocational Training Centre [1946 ] Jakhania, Ghazipur |
| 79 | Shanti Private ITI [2128 ] - Ghazipur |
| 80 | Vijay Private ITI [2130 ] - Ghazipur |
| 81 | Shri Ram Soorat National Private ITI [2145 ] - Ghazipur |
| 82 | Maharana Pratap Private ITI [2147 ] - Ghazipur |
| 83 | L.C.C Private ITI [1796 ] - Ghazipur |
| 84 | Reshmi Private ITI [1679 ] - Ghazipur |
| 85 | Sri Bajrang Private ITI [1684 ] - Ghazipur |
| 86 | Shri Baleshwar Pandey Private ITI [1865 ] - Ghazipur |
| 87 | Rajan Private ITI [1934 ] - Ghazipur |
| 88 | Awadhoot Bhagwan Private ITI [2131] - Ghazipur |
| 89 | Mata Shanti Private ITI [2133] - Ghazipur |
| 90 | Shivkumar Rai Private ITI [2134 ] - Ghazipur |
| 91 | Adarsh Private ITI [2149] - Ghazipur |
| 92 | Raghunath Singh Private ITI [2978], Bhisham Amahat, Ghazipur |
| 93 | Ramdhari Pahalwan Private ITI [3022], Naisara, Nandganj, Saidpur, Ghazipur |
| 94 | CHANDRA PRIVATE PRIVATE ITI [3217], GHAZIPUR |
| 95 | MA GAYATRI AUDYOGIK PRASHIKSHAN CENTRE PRIVATE ITI [3154], GHAZIPUR |
| 96 | DR. T H PRIVATE ITI [3174], GHAZIPUR |
| 97 | RSL PRIVATE ITI [3463 ], GHAZIPUR |
| 98 | SHRI MUNNAR PRIVATE ITI [3468], GHAZIPUR |
| 99 | PURUSHOTTAM PRIVATE ITI [3330], GHAZIPUR |
| 100 | SHRI PALAKDHARI PRIVATE ITI [3335], GHAZIPUR |
| 101 | Babunandan Private ITI [2654], GHAZIPUR |
| 102 | Shivam Private ITI [2886], GHAZIPUR |
| 103 | Kamakhya Private ITI ,[2442] - Ghazipur |
| 104 | Kawaldhari Yadav Private ITI ,[2460] - Ghazipur |
| 105 | Maa Vaishnavi Private ITI [2409] - Ghazipur |
| 106 | Maa Tijiya Private ITI [1835 ] Mardah-Ghazipur |
| 107 | Maa Bhagawati Private ITI [1765 ] - Ghazipur |
| 108 | Ajeet Yadav Purvanchal Private ITI [1744 ] - Ghazipur |
| 109 | Central Private ITI [1707 ] - Ghazipur |
| 110 | Shiv Baba Private ITI [1854 ] - Ghazipur |
| 111 | Maa Sudami Devi Private ITI [1840 ] - Ghazipur |
| 112 | S.B. Private Industrial Training Institute [1845 ] - Ghazipur |
| 113 | Bala Private ITI [1941 ] - Ghazipur |
| 114 | Kalpnath Smarak Private ITI [1925 ] - Ghazipur |
| 115 | International Private ITI [1910 ] - Ghazipur |
| 116 | H. S. National Private ITI [2153] - Ghazipur |
| 117 | Ram Lachchhan Private ITI [2129 ] - Ghazipur |
| 118 | R. K. Private ITI [2135] - Ghazipur |
| 119 | Mansha Rai Private ITI [2136] - Ghazipur |
| 120 | J. B. B. Private ITI [2141] - Ghazipur |
| 121 | Chhavi Shila Private ITI [2165 ] - Ghazipur |
| 122 | Adarsh Private ITI [1629 ] - Ghazipur |
| 123 | Purvanchal Private ITI [1668 ] - Ghazipur |
| 124 | Raja Ram Smriti National Private ITI [1675 ] - Ghazipur |
| 125 | Maa Sita Audyogik Prashikshan Kendra [1680 ] - Ghazipur |
| 126 | U.P Private ITI [1683 ] - Ghazipur |
| 127 | Dr. A.H. Private ITI [1686 ] - Shadiabad - Ghazipur |
| 128 | Late Shiv Kumar Rai Private ITI [1689 ] - Ghazipur |
| 129 | SHRI RAM SINGH PRIVATE ITI [3556], GHAZIPUR |
| 130 | K S NATIONAL PRIVATE ITI [3083], GHAZIPUR |
| 131 | SHAHEED VISHWANATH PRIVATE ITI [3110], GHAZIPUR |
| 132 | B K PRIVATE ITI [3564], GHAZIPUR |
| 133 | KAMAKHYA PRIVATE ITI [3402], GHAZIPUR |
| 134 | RAM GOVIND SMARAK PRIVATE ITI [3401], GHAZIPUR |
| 135 | JIUT DAS PRIVATE ITI [3603], GHAZIPUR |
| 136 | P N R PRIVATE ITI [3403], GHAZIPUR |
| 137 | BABA RISHAL DAS DEVNATH PRIVATE ITI [3412], GHAZIPUR |
| 138 | SHRI VASHISTH COLLEGE OF ENGINEERING & TECHNOLOGY PRIVATE ITI [3381], GHAZIPUR |
| 139 | PRAGYA PRIVATE ITI [3374], GHAZIPUR |
| 140 | MAA KALINDI SINGH PRIVATE ITI [3372], GHAZIPUR |
| 141 | SADGURU PRIVATE ITI [3373], GHAZIPUR |
| 142 | MAA KALINDI SINGH ONE PRIVATE ITI [3212], GHAZIPUR |
| 143 | R R SAINIK PRIVATE ITI [3219], GHAZIPUR |
| 144 | HARDEV PRIVATE ITI [3233], GHAZIPUR |
| 145 | SHRI RAJARAM PRIVATE ITI [3209], GHAZIPUR |
| 146 | MALVIYA PRIVATE ITI [3191], GHAZIPUR |
| 147 | GOPINATH PRIVATE ITI [3127], GHAZIPUR |
| 148 | MATA KESHARI GENDA PRIVATE ITI [3399], GHAZIPUR |
| 149 | SHRI RUDRA SHIV PRIVATE ITI [3400], GHAZIPUR |
| 150 | OM MAA AADI SHAKTI SNSK PRIVATE ITI [3404], GHAZIPUR |
| 151 | SHRI JAI BAJARANG PRIVATE ITI [3296], GHAZIPUR |
| 152 | SADBHAWANA PRIVATE ITI [3582], GHAZIPUR |
| 153 | JAGARNATH PRIVATE AUDHYOGIK PRASHIKSHAN SANSTHAN PRIVATE ITI [3608], GHAZIPUR |
| 154 | SURYAVANSHI PRIVATE ITI [3520], GHAZIPUR |