Private ITI Colleges in Uttar Pradesh
upiti.in | Updated:
Technical education consists of an important part in Indian education system since it provides technical education on the one hand and on the other hand it has opened ways for ample job opportunities and ability to earn early for the young students. Industrial Training Institutes plays a noteworthy role in propagation of the technical education all over India. The Indian State of Uttar Pradesh too has a remarkable opportunity for its young students to study technical education in various disciplines. There are many types ITI Colleges in India – Government and Private.
The Uttar Pradesh ITI (Industrial Training Institute) or simply UP ITI is managed by Vyavsayik Pariksha Parishada and every year an entrance exam is being conducted by this organization to provide admission to the aspiring students in various trades of Industrial Training Institute in various government and private institutions. The admission pattern is decided by Vyavsayik Pariksha Parishada and students are selected for various trades of ITI on basis of merit. If some of the students are unable to make through the government ITI Colleges then, Uttar Pradesh also has good number of private ITI Colleges also.
Uttar Pradesh ITI (Industrial Training Institute) provides admission to the aspiring candidates in various NCVT and SCVT courses in Engineering and Non-Engineering trades. Aspiring students can check online about various details of the reputed private colleges under Uttar Pradesh Industrial Training Institute. Moreover, they can check about various details and lists of the private ITI College below at www.upiti.in .

| SR.NO. | DISTRICT NAME | NAME OF ITI | ITI CODE |
| --- | --- | --- | --- |
| 1 | AGRA | FINE ARTS PHOTOGRAPHY TRAINING INSTITUTE [1012 ] - AGRA | 1012 |
| 2 | AGRA | ST. JOHNS TECHNICAL INSTITUTE PRIVATE ITI [1013],HOSPITAL ROAD RAJENDRA MARKET AGRA | 1013 |
| 3 | AGRA | NATIONAL INSTITUTE OF TECHNICAL EDUCATION PRIVATE ITI [1014] - AGRA | 1014 |
| 4 | AGRA | PROCESS & PRODUCT DEVELOPMENT CENTRE PRIVATE ITI FOUNDRY NAGAR [1015 ] - AGRA | 1015 |
| 5 | AGRA | ANAND PRIVATE ITI BAWANPURA KIRAVALI [1044 ] - AGRA | 1044 |
| 6 | BAREILLY | VIDYA PRIVATE ITI [1041 ] - BAREILLY | 1041 |
| 7 | BAREILLY | SHIV SHANKER PRIVATE ITI [1059 ] - BAREILLY | 1059 |
| 8 | BAREILLY | KHUSRO PRIVATE ITI [1084 ] - BAREILLY | 1084 |
| 9 | BAREILLY | INDIAN PRIVATE ITI, SAITHAL [1088]- BAREILLY | 1088 |
| 10 | BAREILLY | ISHWARI PRASAD MEMORIAL PRIVATE ITI [1102 ] - BAREILLY | 1102 |
| 11 | GORAKHPUR | RAJKIYA PRIVATE ITI [1620 ] - GORAKHPUR | 1620 |
| 12 | GORAKHPUR | RUDRA DHEERAJ PRIVATE ITI [1621 ] - SAHJANWA, GORAKHPUR | 1621 |
| 13 | GORAKHPUR | SRI LAL BAHADUR SHASTRI PRIVATE ITI [1622 ] - GORAKHPUR | 1622 |
| 14 | GORAKHPUR | NATIONAL INTER COLLEGE PRIVATE ITI [1623] - GORAKHPUR | 1623 |
| 15 | GORAKHPUR | PT. THAKUR PRASAD TRIPATHI PRIVATE ITI [1624 ] - GORAKHPUR | 1624 |
| 16 | GORAKHPUR | GRIDHARI CHAUDHARI PRIVATE ITI [1625 ] - GORAKHPUR | 1625 |
| 17 | GORAKHPUR | GULAB ANJANI CHOUDHRI PRIVATE ITI [1670 ] - GORAKHPUR | 1670 |
| 18 | VARANASI | KALAWATI PRIVATE ITI [ 3628], VARANASI | 3628 |
| 19 | VARANASI | NANDANITI BIRBHANPUR [1630 ] - VARANASI | 1630 |
| 20 | VARANASI | RAJATALAB PRIVATE ITI [1631] RAJATALAB, VARANASI | 1631 |
| 21 | VARANASI | SAMADHAN MAHILA SHILP KALA PRASHIKSHAN KENDRA PRIVATE ITI [1632 ] - VARANASI | 1632 |
| 22 | VARANASI | ADARSH RASHTRIYA PRIVATE ITI [1633 ] - VARANASI | 1633 |
| 23 | VARANASI | PURVANCHAL PRIVATE ITI [1634 ] - VARANASI | 1634 |
| 24 | VARANASI | DUX PRIVATE ITI [1635], MARUTI NAGAR, MADARWA RAMANA-VARANASI | 1635 |
| 25 | VARANASI | J.S. ITI [1655 ] PALHIPATTI, VARANASI | 1655 |
| 26 | VARANASI | GRAMYA BHARTI PRIVATE ITI [1678 ] - VARANASI | 1678 |
| 27 | VARANASI | BABU HARBANSH BAHADUR SINGH PRIVATE ITI [1703 ] - VARANASI | 1703 |
| 28 | VARANASI | DEV PRIVATE ITI [1828 ] - VARANASI | 1828 |
| 29 | VARANASI | SIDDHARTH ITI [1829 ] PALHIPATTI, VARANASI | 1829 |
| 30 | VARANASI | SHAMBHOO NATH SINGH PRIVATE ITI [1830 ] - VARANASI | 1830 |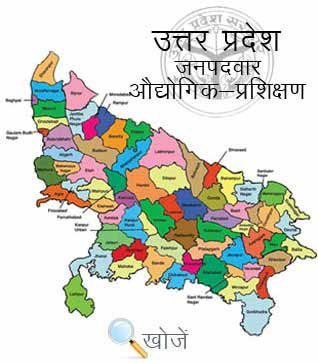 District-wise Private iti college list in UP
| S.N. | District Name |
| --- | --- |
| 1 | Agra |
| 2 | Aligarh |
| 3 | Allahabad |
| 4 | Ambedkar Nagar |
| 5 | Amethi |
| 6 | Amroha |
| 7 | Auraiya |
| 8 | Azamgarh |
| 9 | Baghpat |
| 10 | Bahraich |
| 11 | Ballia |
| 12 | Balrampur |
| 13 | Banda |
| 14 | Barabanki |
| 15 | Bareilly |
| 16 | Basti |
| 17 | Bhadohi |
| 18 | Bijnor |
| 19 | Budaun |
| 20 | Bulandshahar |
| 21 | Chandauli |
| 22 | Chitrakoot |
| 23 | Deoria |
| 24 | Etah |
| 25 | Etawah |
| 26 | Faizabad |
| 27 | Farrukhabad |
| 28 | Fatehpur |
| 29 | Firozabad |
| 30 | Gautam Buddha Nagar |
| 31 | Ghaziabad |
| 32 | Ghazipur |
| 33 | Gonda |
| 34 | Gorakhpur |
| 35 | Hamirpur |
| 36 | Hapur |
| 37 | Hardoi |
| 38 | Hathras |
| 39 | Jalaun |
| 40 | Jaunpur |
| 41 | Jhansi |
| 42 | Kannauj |
| 43 | Kanpur Dehat |
| 44 | Kanpur Nagar |
| 45 | Kasganj |
| 46 | Kaushambi |
| 47 | Kushinagar |
| 48 | Lakhimpur Kheri |
| 49 | Lalitpur |
| 50 | Lucknow |
| 51 | Maharajganj |
| 52 | Mahoba |
| 53 | Mainpuri |
| 54 | Mathura |
| 55 | Mau |
| 56 | Meerut |
| 57 | Mirzapur |
| 58 | Moradabad |
| 59 | Muzaffarnagar |
| 60 | Pilibhit |
| 61 | Pratapgarh |
| 62 | Rae Bareli |
| 63 | Rampur |
| 64 | Saharanpur |
| 65 | Sambhal |
| 66 | Sant Kabir Nagar |
| 67 | Shahjahanpur |
| 68 | Shamli |
| 69 | Shrawasti |
| 70 | Siddharth Nagar |
| 71 | Sitapur |
| 72 | Sonbhadra |
| 73 | Sultanpur |
| 74 | Unnao |
| 75 | Varanasi |